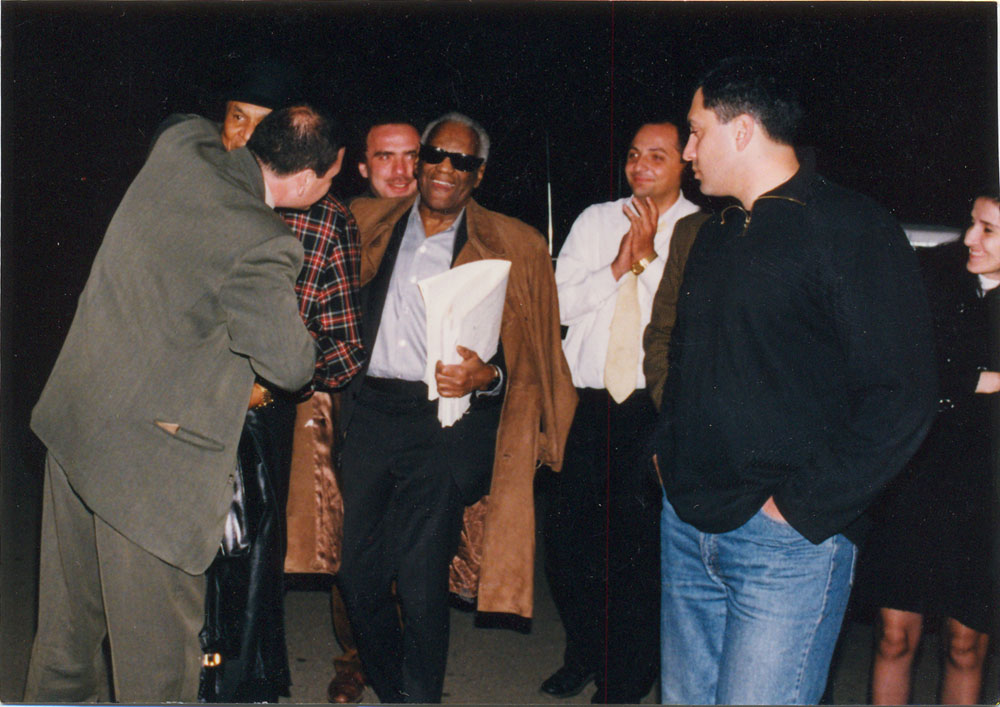 Photo (from website of event owners): Ray in Tbilisi.
Is he carrying his
braille Playboy
there?
Reuters Television has shelved two tapes with news items produced on 17 October 1996, when Ray Charles arrived in Tbilisi, in "the other Georgia", where he headlined the
Coca-Cola Tbilisi Jazz Festival
, giving a concert at the State Concert Hall (a.k.a. the State Philharmonic Complex), accompanied by the Georgian Philharmic Orchestra.
According to Reuters, "Tickets went for over 200 Lari (150 U.S. dollars) despite average salaries of less than 10 U.S. dollars a month throughout the mountainous republic of five million". Ray "[...] had been urged to visit Georgia by Georgian-American émigrés and American friends of the former Soviet republic."
Ray got a true rock star's - if not a state man's - reception. The camera crew saw him "[...] descending aircraft steps / being greeted by women giving him flowers", and then observed "Charles' motorcade pulling away from airport" and "Women running after car".
With president Shevardnadze.
The next shots not only showed "Charles drinking wine from traditional Georgian cup", but soon after also "Charles leaving elevator, being greeted by
Eduard Shevardnadze
", and then being "seated with American ambassador to Georgia, [...] opposite Shevardnadze and Georgian government delegation".
The next sequence demonstrated "Thousands of fans crammed into the State Philharmonic Complex in the Georgian capital Tbilisi to see a special performance from Ray Charles". To top it all off, "Among other numbers, he sang his trademark
Rainy Night In Georgia
[sic!]
ballad to the delight of the crowd." So of course, in the end we see the "audience including Shevardnadze applauding" before it all ends with "Charles leaving".
You can watch extensive AP news footage
here
.*
In 2007 the yearly jazz festival moved from Tbilisi to the Black Sea resort of Batumi, and the name was changed to Coca-Cola Black Sea Jazz Festival. In 2009 the event owners had problems finding new sponsors. In an
interview
marketing manager Kakha Kandelaki reflected on Ray's legendary visit: "Thousands of people welcomed him on the runway when he arrived. The managers of the singer were confused. Ray was lucky not to see it all. We never believed that he would actually extend his tour to Tbilisi until we saw him coming out of the plane. [...] It was not considered a great idea to invite James Brown or Ray Charles to Georgia taking into account the reality that the vast majority of the Georgian public preferred listening to Russian pop singers Leonid Agutin and Oleg Gazmanov instead. From the very beginning our customers looked at our festivals sceptically. They thought it impossible for such festivals to take place in Tbilisi. Others just assumed that the invited singers must have been unpopular in their own countries already, thus visiting such an out-of-the-way spot to perform. However as time passed the number of viewers started increasing. We managed to gain a certain segment of the population's trust and loyalty. [...]. The world-famous stars who visited our country introduced Georgia, in turn, to the world. We have created a fertile background of our country by our work. Currently there is no problem in inviting any music maestro to our country. No one asks who the president of your country is when they hear who has already visited it. Nowadays, artists are not even waiting for our invitation, rather they ask in advance if we would like to invite them to participate in jazz festival tours.
Source materials are
here
and
here
. One more amateur
photo
with Ray is here.
The CNN Evening News, anchored by Judy Woodruff, for Friday, October 18, 1996 featured Ray Charles' sold-out "performance in the Republic of Georgia"; scenes from the concert were shown.
* This footage is obviously identical to the AP news video: