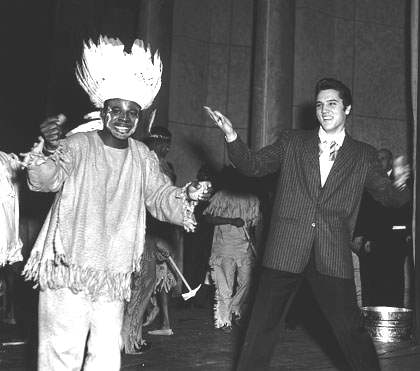 After the show: Rufus Thomas
and Elvis Presley.
Photo by Ernest Withers.
One of the first radio stations to feature African Americans on the air, and the first to do so on an ongoing basis, was Memphis-based WDIA. Their signal covered parts of five states, and this had a huge effect upon the self-image of a Southern black population that until then had no alternatives to white-dominated radio. As rock and roll radio took shape over the next several years, it was not only the music of southern rhythm-and-blues that fostered white imitations. Disc jockeys across the country followed the example of WDIA DJs (like Rufus Thomas).
Beginning in 1949, the station staged an annual
Goodwill Revue
, which by the mid-1950s had built up such a fame that record companies began sending their biggest names.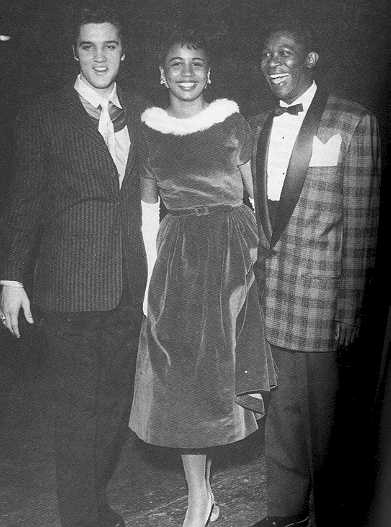 After the show: Elvis Presley, Claudia Ivy and
B.B. King. Photo by Ernest Withers.
On 7 December 1956 WDIA held its 8th Annual Goodwill Revue. Ray Charles, B.B. King, The Moonglows and The Magnificents were good for a complete sellout (9,300 people) at the Ellis Auditorium. The gross of the R&B show totaled over $ 15,000. "Talent gave its services gratis, even paying transportation to and from Memphis."
Amongst the personalities who attended were Atlantic's Jerry Wexler and Elvis Presley, who, as
Billboard
reported* on 22 December), was "a very studious onlooker".
In the aftermath of the event, a number of "Negro" newspapers printed photographs of Elvis with both Rufus Thomas and B.B. King "Thanks, man, for all the early lessons you gave me," were the words
The Tri-State Defender
reported he said to B.B.
See
this great article
for more photos (and read it!).
* Wexler, a former editor at Billboard, most probably was the source for the quote.