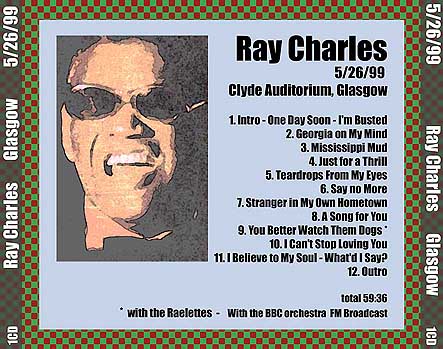 'Artwork' for digital bootleg.
Intro
Then We'll Be Home (Sadies Tune)
Busted
Georgia On My Mind
Mississippi Mud
Just For A Thrill
Teardrops From My Eyes
Say No More
Stranger In My Own Hometown
A Song For You
You Better Watch Them Dogs (Raelettes)
I Can't Stop Loving You
I Believe To My Soul
What'd I Say
Outro
The - very fragmentary - sources on this concert all seem corrupt somehow, but this is my best reconstruction:
The concert and the taping took place on either (16 or) 26 May 1999 at the Clyde Auditorium, in Glasgow. It was probably first broadcast on BBC 2/Glasgow FM Radio on May 31st. Ray performed with "the Ray Charles Trio" and with the BBC Big Band, for this occasion conducted by Richard Niles.
The recording was partially aired again in 2002; from this broadcast a torrent is floating around on the web. Try to grab it if you can: Ray's performance of
I Believe To My Soul
was so mean and raw, that he said he doubted if the BBC would dare to broadcast it.
#13 - 14: