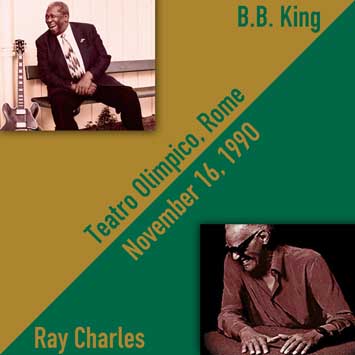 Air Mail Special (Ray Charles Orchestra)
Centerpiece (Ray Charles Orchestra)
Battle Royal (Ray Charles Orchestra)
Intro
Let The Good Times Roll
Busted
Georgia On My Mind
Mississippi Mud
Just For A Thrill
Teardrops From My Eyes
Ellie, My Love
Feel So Bad
You've Got My Number
I'm Gonna Move
I Can't Stop Loving You
What'd I Say
The Blues Ain't Nothing
Flip Flop And Fly
Outro
2CD: B.B. King & Ray Charles, 16 November 1990, Teatro Olimpico, Rome.
#17 & 18 were no doubt part of the finale act delivered by or done together with B.B.