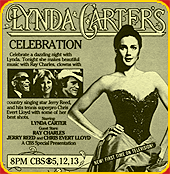 Lynda Carter's Celebration
was directed by Stan Harris. It was broadcast by CBS on Monday, 11 May 1981.
"Six cameras were used to tape the scene, including an aerial one mounted on a high track. 'For Ray Charles' number, Miss Carter said, 'we forklifted a grand piano into place on that delicate looking, transparent platform. It was quite a feat, structurally speaking, and it got a round of applause all its own from our audience.'"
"Miss Carter introduces her special guest star, Ray Charles, as a matchless artist in every area of music. Charles sings,
It Hurts To Be In Love
, then he and Miss Carter sing,
[You Make Me Feel Like A] Natural Woman
."
Several (probably not entirely legitimate) DVD selections with Ray Charles footage are for sale
on the web
.
Complete show:
You Make Me Feel Like A Natural Woman: